Sicily: Go Back in Time to Antiquity!
There are only a few yachting destinations that offer breathtaking nature, more than 2000 years of history, exciting night life, excellent food and rich cultural experiences. If this combination sounds like an ideal destination for your next holiday than you should know we're speaking about Sicily - the largest island in the Mediterranean sea.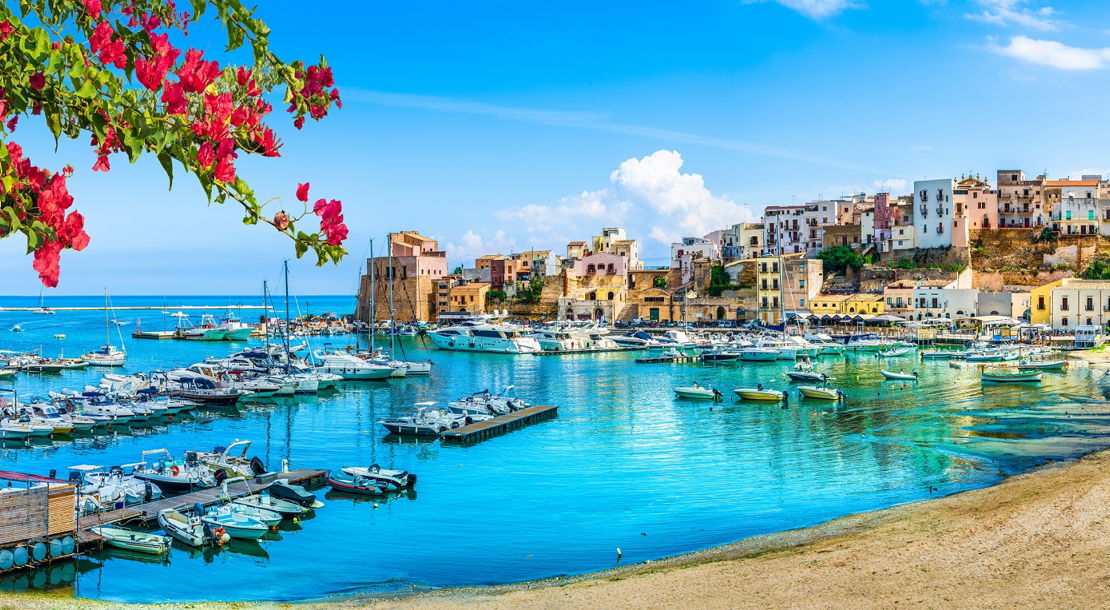 A week in Sicily certainly won't be enough and if you really want to enjoy yourself, two weeks are still too short. But who says you can't come back here? We usually recommend that our guests take a week-long voyage from Palermo around the south-western part of the island or from Palermo to the Aeolian Islands and back. Another option is to travel from Portorosa around the eastern part of Sicily or to take a trip from Portorosa to the Aeolian Islands and back. If you don't know which route to pick, delve into the following article to help you!
Off to Palermo to Enjoy a Magical Atmosphere
The main town on the island is a cultural and economical centre of Sicily and an ideal spot to start your holiday! You will find several museums here as well as medieval churches and palaces - e.b. Palazzao Reale, Palermo Cathedral and Castello della Zisa. But don't expect a polished tourist city centre. The streets of Palermo have a long history and the town has its own pace. This is also the reason for its magical atmosphere!
From Palermo, you can travel to Capo Gallo, a natural reserve surrounding Mount Gallo mountain. This is an especially beautiful location and a favourite destination for Sicilians who come here take walks or to have a picnic and go swimming and watch the romantic sun set. If you feel like having fresh fish, stop at one of the fishing villages, Mondello or Sferracavallo and try the local restaurants. In the Mondello bay you will also find beautiful beaches with crystal clear water and as you travel you can feast your eyes on beautiful Art Nouveau villas scattered along the coast.
On the northeastern tip of the island visible from mainland Italy lies the town of Messina with the largest natural port in the Mediterranean. We recommend that you take a walk to Piazza del Duomo where you will find Orion's Fountain and the largest local landmark, a cathedral with Gothic portals and fantastic mosaics. During the voyage to the southern part of the island you will of course enjoy a view of famous Etna, the second largest volcano in Europe as well as the Argimusco megaliths that are often compared to British Stonehenge.
To the South to See the Sights
Taormina should certainly be your next stop, which is a tourist centre in Sicily. This is in part thanks to its location on a cliff above the sea from where you get a beautiful view of mainland Italy and Etna but also thanks to its preserved historical landmarks the most spectacular of which is the famous Greek theatre. Since you'll be on your own boat, you can explore Isola Bella, a tiny island right next to the town. You can continue on to Catania, which is known for its fountain with the statue of an elephant carrying an Egyptian obelisk. As you explore Catania you will feel surrounded by the rich history of this island, which was ruled by Greeks, Romans, Arabs and Normans and which is the reason why the local Italian dialect is speckled with words from Arabic, Greek as well as French.
You should certainly not miss Syracuse, which was the largest town in Sicily in Ancient Greece and the birthplace of mathematician Archimedes. The Necropolis of Pantalica, a medieval graveyard with 5000 tombs carved into the rocks is very close by. The Agrigenta Valley of the Temples on the southern part of the island is also beautiful. It is an archaeological site where you can see the ruins of Greek temples that used to be the largest in the world!
Off to Marsala to Eat and Drink
Sicily is known as a gastronomical paradise. Local cuisine is different from Italian cuisine since it is influenced by all the cultures that inhabited the island over time. Try sweet cannolis, which are tubes filled with ricotta or arancini, rice balls with mozzarella that look like fried oranges. White Malvasia wine is a local wine famous throughout the world as is the fortified Marsala wine similar to sherry. It is also in this town, which gave the wine its name and which lies on the western-most tip of the island where you will find one of the best Sicilian restaurants.
The famous Stagnone lagoon surrounded by wind mills lies above Marsala. You can end your holiday with a walk along the medieval paved streets of Trapani. And if you were to decide to extend you holiday after all, the Aegadian Islands lie close to Trapani lie. They are a very popular yachting destination thanks to their exquisite beaches and hidden bays!
Photo credit: Shutterstock.com
Would you like to go to Sicily with us? Write to us!
Read more articles