Sardinia. These beaches will take your breath away!
There are many beautiful sailing destinations in Europe, but only some of them offer a perfect mix of natural beauties, great cuisine and historic sites like Sardinia. You will find there picturesque harbors with fantastic restaurants, prehistoric stone monuments called Nuraghe, but especially hundreds of beaches that nicknamed Sardinia as the Caribbean of Europe!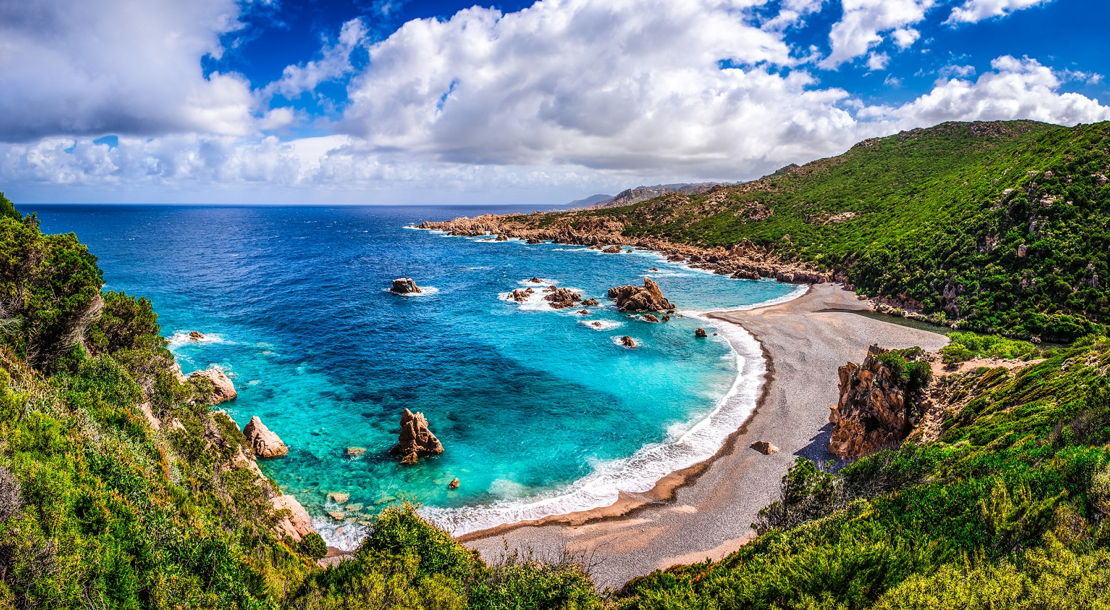 By the way, this nickname fits perfectly. Sardinian beaches are lined with beautifully clear sea in similar shades of turquoise and blue which are otherwise seen only in the Caribbean. Plus, there are plenty of beaches, and many of them are hidden in the secluded bays between the rocks and only accessible from boat, that you will easily find your own, where nobody will disturb you. And in the meantime, between bathing and sunbathing, you can explore the backlands and watch grazing herds of wild horses and sheep (Sardinia is one of the major producers of the famous Italian cheese Pecorino Romano made out of sheep's milk) or some of thousands of 3500-years-old Nuraghe (fortresses built by the Nuraghic civilization).

The most luxurious part of Sardinia is definitely the Emerald Coast which stretches along the northeastern part of the island, roughly between the Porto Rotondo and Porto Cervo ports. Here you will find the most luxurious hotels, spas, restaurants and shops, and some really beautiful yachts. By the way, both ports are definitely worth a visit. Just as the picturesque archipelago La Maddalena in the north of Sardinia, which is also a national park. Moreover, Sardinia is very close to the French Corsica, where you can make a stop along your trip. But let's return for a while to the renowned Sardinian beaches. We selected six places which are perfectly accessible from the boat and definitely worth a visit during your cruise!
Cala Mariolu
The beach of Cala Mariolu is situated on the east coast of Sardinia, in the southern part of the Gulf of Orosei. It is regularly voted as one of the Italy's most beautiful beaches, and it is not difficult to understand why. The sea here shows an incredible palette of shades, from light blue to the emerald green. In addition to that, you can enjoy a white sandy beach with large boulders, all lined with imposing limestone cliffs. With unbelievably clear water, this place is one of the best Sardinian locations for snorkeling and diving. It is difficult to get here from the mainland, so yachters – the entire Cala Mariolu is only yours!
Cala Luna
Just a little higher, roughly in the middle of the Gulf of Orosei, you will find another miracle – a beautiful strip of golden sand in the shape of a crescent moon, which is the reason why it is called Cala Luna. Also here you will find a crystal clear water which is perfect for snorkeling, but also fine sand lined with rocks and pink oleanders. Cala Luna is one of the more secluded beaches because it is hard to reach from the mainland. In addition, there are also some very photogenic caves where you can definitely take a photo – your Instagram followers will be amazed!
Cala Fuili
Another beach in the magical Gulf of Orosei. Cala Fuili is only 100 meters long, but it offers a beautiful view of the Tyrrhenian Sea. Not only the water is crystal clear, but also shallow, so it is an excellent beach for children. Beautiful is also the bay where the beach is situated. On both sides it is surrounded by steep white cliffs covered with green vegetation, slowly transiting into mountains and forests of the National Park Golfo di Orosei e del Gennargentu.
Spiaggia del Principe
And if you sail more to the north, like to Porto Cerva, do not forget to stop by Spiaggia del Principe beach. The hills that line the beach are little lower this time, but both the beach and the sea here are as tempting as those in the Gulf of Orosei. And our tip? Put out to sea early in the morning and we promise you will not regret:-)
Cala Corsara
It is located on the island of Spargi, which forms a part of the archipelago of La Maddalena in the north of Sardinia. Cala Corsara are actually four small beaches separated by rocks. Because they are part of the national park, there are no tourist attractions here, just untouched nature. The waters around Cala Corsara provide perfect conditions for diving. Besides clear water, you can admire rich underwater life here. Also this beach is hard to reach, except from the boat – so do not hesitate and go for it!
Cala di Trana
It lies on the northern tip of Sardinia, at the town of Palau, right opposite La Maddalena. This two hundred meters long sandy beach is lined with dunes and wild Mediterranean bushes, and it is definitely one of the most vacant places in Sardinia. The beach bordered by granite foothills is a very isolated and peaceful area of the Sardinian coastline, which invites you to relax and snorkel in the shallow, blue-green sea.
Photos: Shutterstock.com
Want to go to Sardinia with us? Write to us!
Read more articles