Mljet: Croatia's Green Pearl
This island is a little different than the rest of the Croatian islands at first glance. Rich vegetation, a national park with beautiful forests and lakes, breathtaking beaches and perfect conditions for water sports. The Croatian island of Mljet lies between Dubrovnik and Korčula and offers beautiful scenery and heavenly peace. You can get to Mljet on our Umbrella Victoria yacht!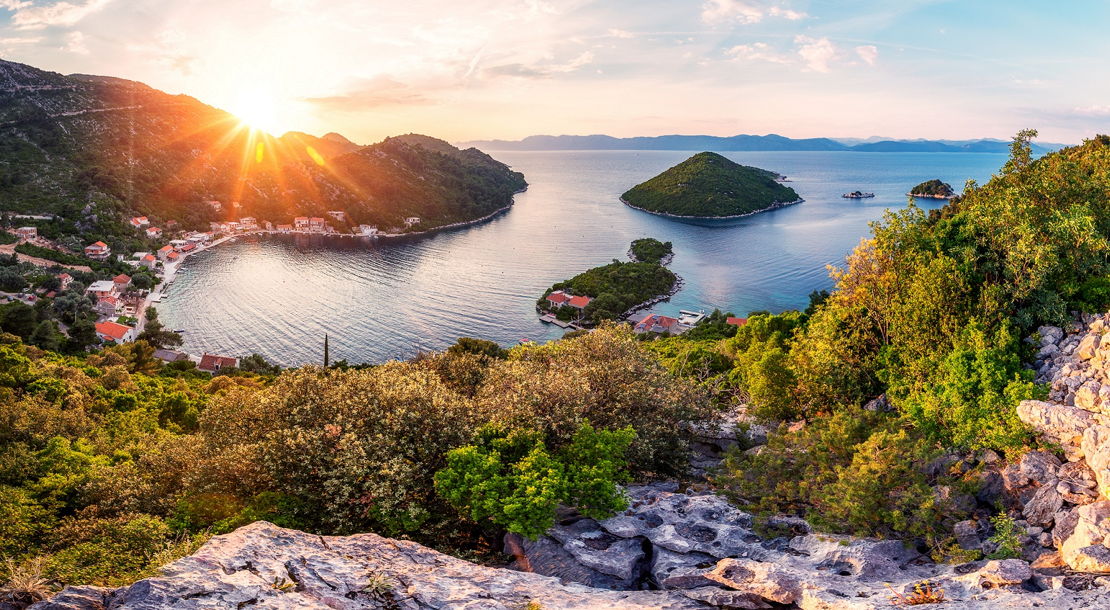 If you keep up with our blog, you already know that we consider Croatia to be one of the most beautiful destinations for a boat trip. Nevertheless, Mljet is a little different than the rest of the Croatian islands. 72 percent of its area is covered by forest – pine, oak and cedars all make Mljet the greenest of the Croatian islands. The national park, which lies on the northwestern tip of the island is the main reason why visitors spend several days here. You'll also find a peaceful and a relaxing atmosphere here as well as excellent conditions for fishing and water sports.
National park: Take a dip in the lakes!
Legend has it that it was Mljet that inspired Homer when he wrote his epic poem The Odyssey – the Croatian island was the inspiration for the island of Ogygia, where the nymph Calypso held Odysseus captive for seven years. We certainly recommend that you explore the centre of the island. You'll find beautiful caves here (Odysseus' cave or Movrica cave) as well as Big and Small Lake (Veliko and Malo Jezero). These were originally karst valleys in the national park that were gradually flooded by sea water, which flows in via the Soline channel.
You can reach the lakes on marked paths from the ports of Polač and Pomena. Other trails will take you along the coast or to the Montokuc lookout point, which offers beautiful views of the national park and neighbouring Pelješac and Korčula islands. You can rent a small boat on the lakes (the yachts have no access here) or you can swim (the water is up to 4 degrees warmer than in the sea). The islet of Saint Mary lies in the middle of Big Lake and you can visit the Saint Mary Benedictine monastery and church from the 12th century here.
Nothing but Peace, Quiet and Lots of Sun
Mljet offers perfect weather with many hours of sunshine every year. It's home to only a little more than 1200 local residents and certainly don't expect any tourist centres here. Instead, you're bound to enjoy the cosy atmosphere and peace and quiet. You'll certainly appreciate this on the beautiful beaches where you certainly won't have deal with any crowds. You can find mostly sandy beaches near the village of Babino Polje or to the southeast near the town of Saplunara.
You have to prepare yourselves for one more peculiarity on Mljet – you're likely to see the Indian Grey Mongoose. The Croatians introduced them here at the beginning of the 20th century to help them get rid of the local poisonous snakes. Today, you can hardly find any snakes here but the mongooses have overpopulated.
Holiday Aboard the Umbrella Victoria Yacht
You can set out to Mljet island aboard several of our yachts (see a list of available yachts HERE). We recommend our luxurious power catamaran Umbrella Victoria! This beauty accommodates up to 8 guests in spacious cabins and a salon, which provide the comfort of a luxury hotel. Each cabin has its own bathroom, TV and wifi connection. The bright salon offers seating as well as a fully-equipped kitchenette and a fold-out dining room table.
The best awaits on board – the spacious relaxing area on the flybridge, on the upper deck, will literally take your breath away! Apart from lounge chairs, you will also find a grill with a refrigerator here, so you can enjoy some BBQ and cold drinks whenever you feel like it. If you love sunbathing on holiday, you'll certainly appreciate the comfortable mattresses at the bow of the boat. If you need to cool off, you just need to stroll over to the hydraulic bathing platform at the rear of the boat and dive head first into the sea! An additional Williams water-jet boat will be at your disposal as well as a wakeboard, stand-up paddleboard, a water sports rubber ring and other water sports equipment for children and adults. A seabob can be provided for an additional fee upon request.
Would you like to learn more about this luxury yacht? Read our article on the Umbrella Victoria: You'll find a detailed video tour so you can take a look up-close. Visit our website for available dates and pricing. One last piece of important information – if you decide to visit Mljet (or any other part of Croatia) on our Victoria, we'll give you a crate of champagne and stylish nautical polo shirts for your entire crew as a gift!
Photo credit: Shutterstock.com and Umbrella Yacht archive
Do you want to head to Croatia with us? Write to us!
Read more articles