Beautiful beaches, calm and great wine? This is exactly what the Croatian Vis island offers
Vis island was cut off foreign visitors up until 1989. The whole island served as a Yugoslav military base. However, from today's perspective, this isolation has clearly been to the benefit of the island. Even today, you will find more peace and privacy here than on other Croatian islands, as well as beautiful beaches and a plenty of inviting restaurants where you can enjoy delicious homemade food and excellent wine.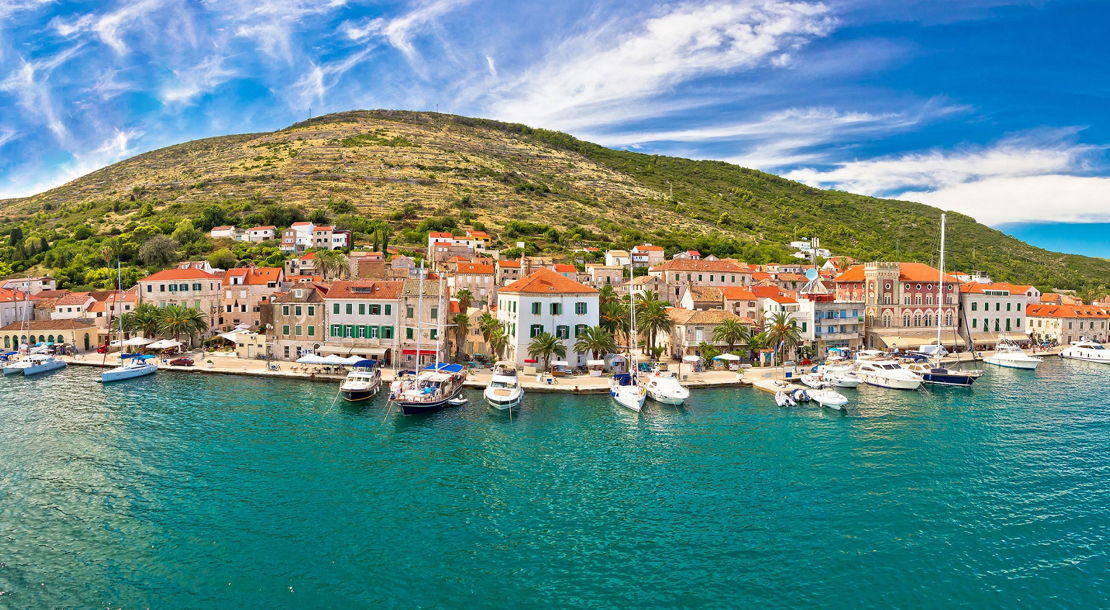 The military history of Vis is really colorful. During the World War II, the Yugoslav guerillas led by Josip Tito established their headquarters on this tiny island, at that time still belonging to Italy. They moved to Vis after they narrowly escaped the Nazis, who surrounded them during a massive operation at the Bosnian town of Drvar. Tito spent the last year of the war in a cave which still bears his name – Tito's cave (Titova špilja). Not far from here, on the mountainside of the Mount Hum, the highest elevation point of Vis, you can find another cave which served as the seat of the general staff of Tito's guerillas. You can see both these caves today.
After the war, the island was transformed into a major military base, which – in the event of war – was able to resist the enemy for as long as 45 days. The army had virtually all its components here, from artillery, through navy to antiatomic, biological and chemical defense. As many as two thousand soldiers and three thousand civilian employees had there, among other things, supplies of food, water, medicine and fuel. There were dedicated power sources as well as high-tech hospital. Reminders of the army can be found here even today – some of them transformed to guesthouses for tourists, while others were preserved to leave you utterly amazed, such as the giant bunker for Jastog submarines in Parja Bay.
The biggest attraction? Beaches!
From the coast of Vis you can enjoy a relaxing holiday full of rest, swimming, water sports and great food and drink. Local sea is clean and the beaches are famous. The most beautiful beaches can be found on the southern coast of the island, including the famous Stiniva, a tiny bay clamped between the rocks, with a little romantic beach right at the end of it. Stončica in the north is very popular too and our secret tip is: try bathing in the clear waters of the northern bay of Budikovac island, which you can find on the west side of Vis. You can also take a trip to the Blue cave on the nearby island Biševo or the Green cave on the tiny island of Ravnik.
On the island, there are only two larger towns, Vis in the north and Komiza in the west – they both are worth a visit. You can find beautiful beaches there and some amazing, mostly family restaurants (usually with "Konoba" in their name) with authentic cuisine and a great selection of local wines. Komiza has always been one of the important Adriatic fishing centers and even today local restaurants offer fresh fish. Try for example the famous Lola Konoba & Bar. And if you stay here after dark, you can experience a truly romantic evening in the city streets, restaurants and bars.
Buy wine and food
Lovers of good food and drink will come into their own – we warmly recommend you to rent a bike on the mainland and explore the entire island. Whenever you see a sign of a farm selling wine, olive oil or cheese, don't hesitate to stop. It is not an attraction for tourists, but really good quality products of local agriculture. And if some places on Vis look familiar to you, try to remember the famous movie Mamma Mia! Here We Go Again. Unlike the original Mamma Mia movie which was shot on Greek islands, this sequel was shot on Vis – amongst other locations, you will for sure recognize Vis, Komiza, famous Stiniva and other beautiful places!
Aboard the Umbrella Victoria yacht
For sailing around Vis, but also to other parts of Croatia (for example Mljet, Croatia's green pearl, is simply beautiful), we will gladly rent you a few of our yachts (their overview can be found HERE). A truly unique experience is the holiday aboard the luxury motor catamaran Umbrella Victoria. This beautiful ship accommodates up to 8 people, offering similar comfort as a top-class hotel. To learn more, read the article Umbrella Victoria: Get up close and personal!, also featuring the virtual video tour. You can find free dates and prices on our website. Let us finish with an important information for you – if you decide to go and explore the coast of Vis (or any other part of Croatia) aboard our Victoria yacht, you will receive a box of champagne and stylish navy polo shirts for the whole crew from us as a gift!
Photos: Shutterstock.com and Umbrella Yacht archive
Would you like to visit Vis with us? Write to us!
Read more articles